Dorkbot Teaming Up With AMODA During SXSW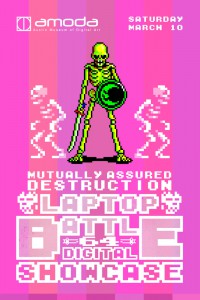 SXSW is upon us! Batten down the hatches and prepare for the influx of nerds and dorks and geeks from the four corners of the map. Dorkbot is trying something new this year, instead of one big event we are collaborating with local groups to put on two separate events. The first will be the AMODA Laptop Battle at the Mohawk next Saturday. This event is free to SXSW Interactive badgeholders, $5 for AMODA members and open to the public for $10. This party is always pretty great, and we hope the addition of some of our loyal Dorkbot presenters will really take it over the top. More details on our second event soon!
The basic details are below, and full information is available at http://amoda.org/showcase/showcase.php?EventID=93.
Saturday, March 10th, 2012
Mohawk
(10th & Red River)
8pm-2am
$10 general;
$5 for members
Free with SXSW Interactive badge
18 and up
PLEASE NOTE: We strongly recommend arriving on time for this event. Due to sound ordinance, the Laptop Battle is scheduled between 10pm and midnight. Also, we are expecting a large number of SXSW badge holders and may reach capacity.
Comments are closed.