Dorkbot34: Dorkbot & ATX Hackerspace at SXSW Create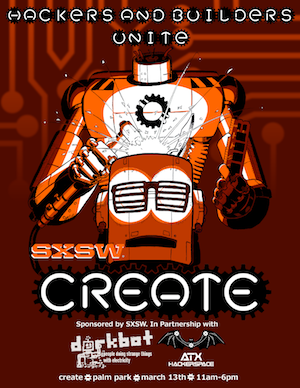 Finally we can announce our exciting new joint venture as we join forces with our good friends at the ATX Hackerspace to help put together SXSW Create, a Voltron-style all-day event of general awesomeness!
Next Tuesday, March 13th, we will be taking over Palm Park, located at 750 E 3rd Street, just East of the Austin Convention Center, from 11:00am to 6:00pm. Official info here: http://schedule.sxsw.com/2012/events/event_IAP992393.
First, let's tear the duct tape off the bad news – this is an official SXSW event, intended for badge holders only
This isn't ideal, but don't forget about our event with AMODA this Saturday night (http://amoda.org/showcase/showcase.php?EventID=93), which is certainly open to the public

(Also, mums the word, but the rumor has it that unlike some summers, which can be fairly Dork-less, this summer is shaping up to be quite Dork-tastic indeed. More details as they become available.)
Now for the good news:
Free beer!
Tons of our outstanding Dorkbot presenters giving updated presentations of their latest work!
A hacker village full of excellent work by the ATX Hackerspace!
A closing performance by our favorite hacker rock stars, Ghost Ghost!
We look forward to seeing you there!
Comments are closed.