DorkbotColumbus is going
GREEN

! Create a project and sign up to be a presenter!
Dorkbot is all about people and technology!
Dorkbot is a platform for new technology talent - or expert technology talent exploring new territory. Dorkbot is a stage for showing off new ideas and new projects. If you have a project - having fun with electricity" - and you would like to present it at a future Dorkbot event, drop an email to dorkbotcolumbus @ gmail.com.
DorkBot is driven by the needs and interests of people in our local community who want to share an informal, friendly and sharing environment in which people can talk about and demonstrate their interests.
Dorkbot fosters discussion and brings together people from different backgrounds united by a common interest in exploring and discussing creative uses of technology.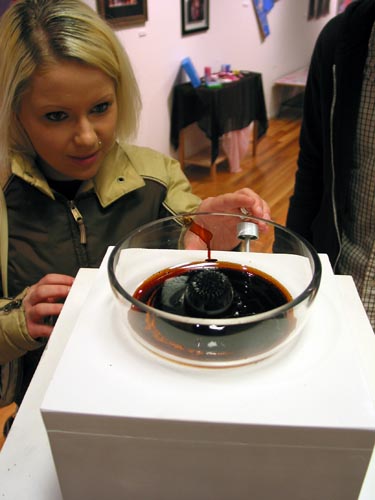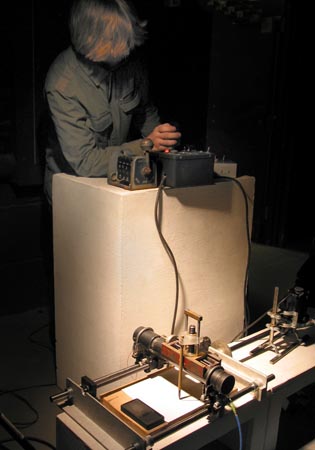 Ferromagnetic Fluid Sculpture 2005 by Ilan Epstein. Photo Amy Youngs Drawing Machine 2005 by Ross Baldwin. Photo Amy Youngs
---
Dorkbot Resources in Central Ohio
Here's a short list of links to work that exemplifies the Dorkbot spirit - right here in the Columbus area!
---
Why Dorkbot in Columbus?
Dorkbot is one of those strange community experiences where showbiz hooks up with technology, where curiosity overcomes shyness, and where people come together to do their people thing.
Fun!

Technology can be fun. We can bog down in the everyday experience of making something work just right - but, bottom line - technology has become one of our culture's means of creative expression and entertainment.


Art!

So it's ironic that technology and art are so frequently thought of as two distinct mindsets. In fact they are closely linked. (Ever think about design as a barrier to using good technology? If you've ever used Photoshop you have - tearing down barriers and making people more comfortable with the technology in their lives - that's what we're talking about.)

Serendipity 2004 by Cameron Putsch. Photo by Amy Youngs

Unititled 2004 by Bill Shakelford. Photo by Amy Youngs

Self-organizing!

Great ideas often come out of a sense of playfulness and serendipity. By definition it would be extremely difficult to manage and direct such opportunities, but it can't hurt to cultivate events that encourage play and fun - with an eye to finding purposeful inventions. Chris Varley - a favorite long-time acquaintance and networker extraordinaire now based in Cleveland - took to the idea instantly in his blog, Tech Futures.

Profit?

As the old saying goes - Luck favors the prepared mind. If we arrange to have some fun, and keep our wits about us - who knows what might pop up as a workable, profitable idea?