_      ___     _        _       ___  
|\ |  |_  \/   |     |_  \  / |_  |\ |  |   
| \|  |_  /\   |     |_   \/  |_  | \|  |   


Dorkbot SoCal 56 - The Reboot
***** Sunday, October 19, 2014
***** 11:00 am to 1:00pm
***** Machine Project
***** 1200 D North Alvarado Street
***** Los Angeles, CA 90026
***** Google map of Machine Project

Speakers will include...

Garnet Hertz
http://www.conceptlab.com

Dorkbot SoCal's overlord emeritus has moved to Vancouver, but will return to us through the power of videoconferencing to narrate his travelogue of the Chinese maker/hacker culture including the 2014 Shenzhen Maker Faire, Seeed Studio, the Chaihuo Hackerspace in Shenzhen, as well as the Xin Che Jian Hackerspace in Shanghai.

Garnet is now the Canada Research Chair in Design and Media Arts at Emily Carr University of Art + Design in Vancouver Canada, and previously was previously Artist in Residence and Research Scientist in Informatics at UC Irvine. And he has built robots controlled by cockroaches :)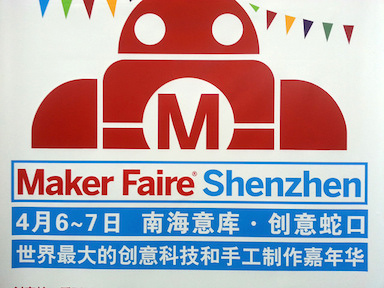 Matt Pinner & Kyle Cothern
https://www.suprmasv.com/projects/156/led-staff-for-spinning-crowd-con

Matt & Kyle have created an awesome 8ft long carbon fiber staff stuffed to the gills with RGB LEDs that produce a bright flow of energy circling around the user.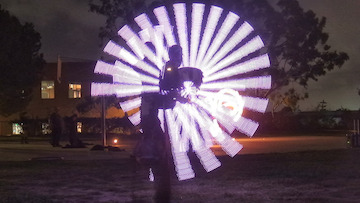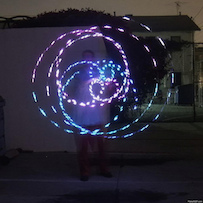 Thomas Edwards
http://www.t11s.com

Thomas will talk about how you can use 3D capture software such as 123D Catch to make your own digital holograms with Zebra Imaging.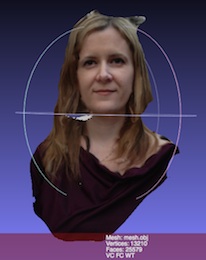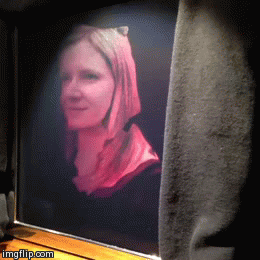 Jennifer Fox
http://www.jenfoxbot.blogspot.com

Conserving freshwater is one of those seemingly constant struggles, especially with a human population exceeding seven billion. There are many ways to optimize irrigation systems and reduce water consumption; one of these ways is to install a soil moisture sensor. Jennifer will describe how to build a Raspberry Pi Soil Moisture Sensor.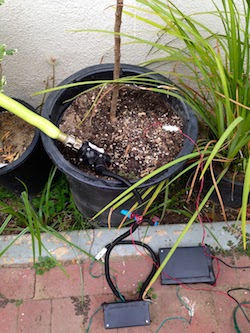 ---
Previous Events...
Dorkbot SoCal 55
***** Sunday, November 10, 2013
***** 1:00 pm to 3:00pm
***** LA Biohackers Lab
***** 6th Floor, ETO Building
***** 1340 E 6th Street, Los Angeles, CA, 90013



Come meet the LA Biohackers and find out more about some of the biotech projects going on in their lab!

Speakers to include...

Keoni Gandall
Keoni will be talking about how he is bootstrapping a synthetic bacteria using the common laboratory bacteria Bacillus subtilus. Currently there is no easy method for creating a new organism even if you have the ability to synthesize a new genome from scratch. A method Keoni is working on allows for a new genome to first be integrated into a host genome, then split off during cell division to create two daughter cells - 1 with the host genome and 1 with the new genome. This method will have great use in synthetic biology.

Sophia Hewitt

Sophia will be talking about her research on using epigallocatechin-3-gallate (EGCG), a compound found in green tea as an anti-tumor treatment. In some types of cancer the cancer cells repair their telomeres so the cells effectively don't age, allowing the tumor to grow perpetually. Sophia is testing whether EGCG can inhibit this telomere repair mechanism and allow for treated cells to age. She is usingthe model organism called Tetrahymena thermophila which is an excellent test bed for studies on telomere length.

Cory Tobin

Cory will be talking about his work on creating plants that make their own fertilizer. He is studying an extremophile bacteria that makes it's own ammonia (fertilizer) using water and nitrogen gas from the atmosphere. By understanding the mechanism this bacteria uses, he hopes to create plants and algae capable of synthesizing their own ammonia, negating the need to apply fertilizer to the soil.

---
Dorkbot SoCal 54
***** Sunday, September 8, 2013
***** 1:00pm to 3:00pm
***** LA Makerspace
***** 1933 S. Broadway
***** Suite 1138
***** Los Angeles, CA 90007
***** (Directions)
***** No cover charge / donations to venue welcome

Visit LA Markerspace and find out more about the exciting projects and classes going on there!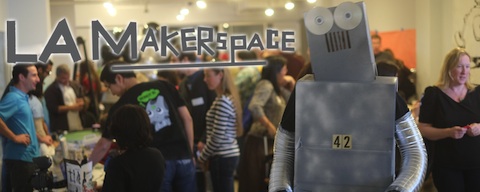 Phillip Dupree's hexapod robot: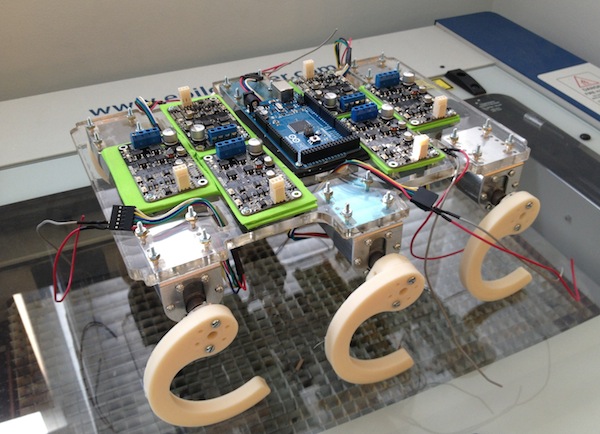 ---
Dorkbot SoCal 53
***** Sunday, June 9, 2013
***** 1:00pm to 3:00pm
***** Crash Space
***** 10526 Venice Blvd.
***** Culver City, CA 90232
***** (Directions)
***** No cover charge / donations to venue welcome


Come to Crash Space and learn about the hackersapce and some of their exciting projects:

Flipbookit
Mechanical animation kit.



Crash Library
Arudino-powered outdoor mini-library that tweets when people take out a book.




Crash Inspired
Mobile interactive night club experience - 2K RGB LEDs - on a truck - controlled with Twitter!


---


Introducing the launch of Dorkbot SoCal's 2013 Hackerspace Tour - your chance to get inside Southern California's most exciting hackerspaces.


Dorkbot SoCal 52

***** Sunday, May 5, 2013
***** 1:00pm to 3:00pm
***** Droplabs
***** 651 Clover St.
***** Los Angeles, CA 90031
***** (Directions)
***** No cover charge / donations to venue welcome

Droplabs is a collaborative coworking space, classroom and makerspace near Downtown Los Angeles.

Come see a presentation about their 3D avatar engine / web service, a classroom / coworking management system, and more!

Photos of the event: http://www.flickr.com/photos/youraccount/sets/72157633419283609/

Video of the event by Douglas Welch: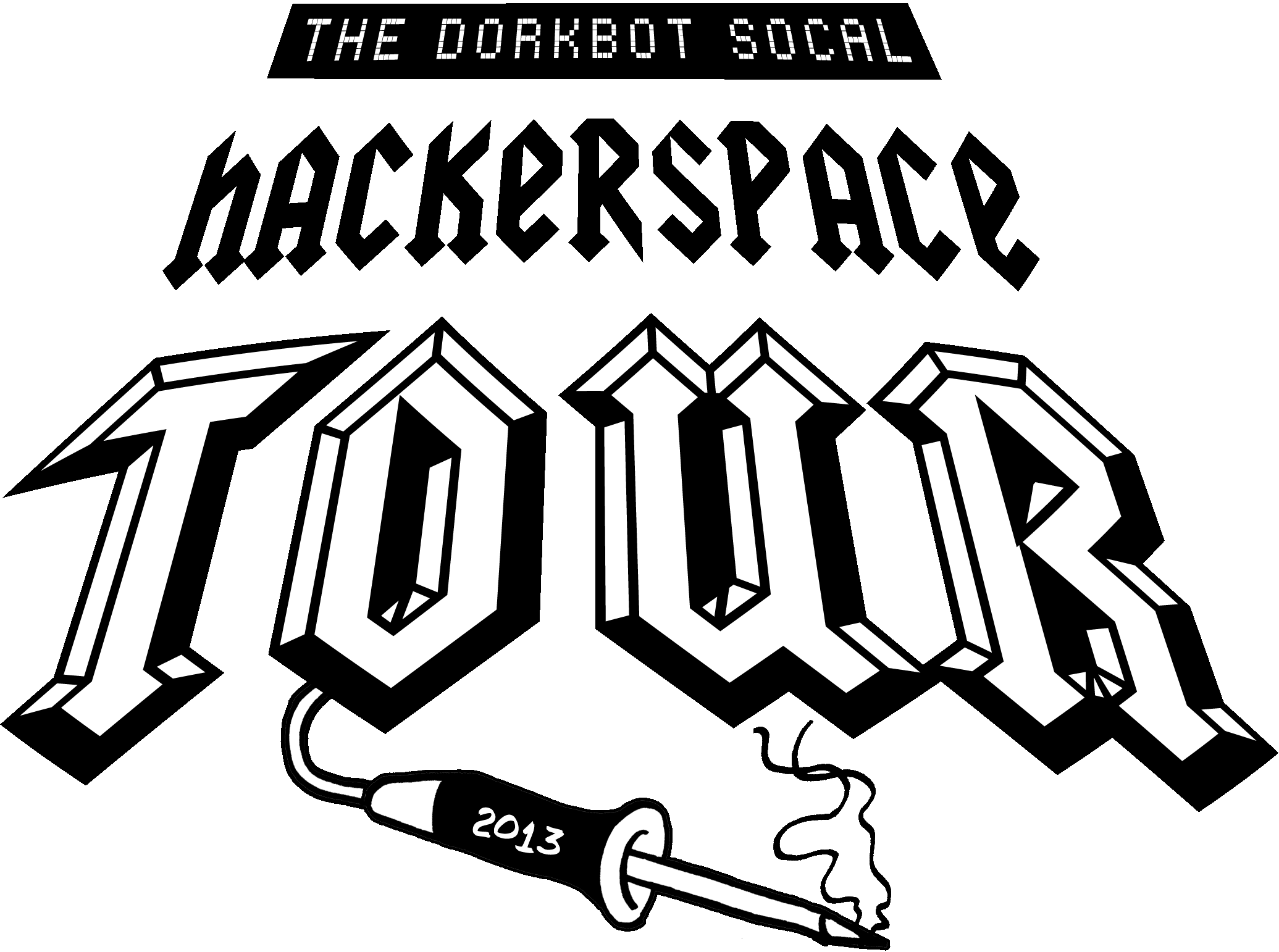 ---
Dorkbot SoCal 51
***** Saturday, January 26, 2013
***** 3:00pm-5:00pm
***** The Public School
***** 951 Chung King Road
***** Los Angeles, CA 90012
***** Google map of The Public School

Dorkbot SoCal will host a presentation by artists participating in "Poetic Codings", an exhibition that explores the relationship between art and technology through juxtaposing code-based works for the wall with those made for mobile devices.

John Carpenter
http://www.johnbcarpenter.com/

John Carpenter is a Los Angeles-based, interactive digital artist and designer. He will be creating a new interactive work for this exhibition that continues his explorations of natural systems and complex data and spaces.



Erik Loyer
http://www.erikloyer.com/

Erik Loyer uses tactile and performative interfaces to tell stories with interactive media. His award-winning website The Lair of the Marrow Monkey was one of the first to be added to the permanent collection of a major art museum, and his serialized web narrative Chroma went on to win the Best Digital Creation award at the Montreal International Festival of New Cinema and New Media.



Casey Reas
http://reas.com/

Los Angeles-based Casey Reas' generative software pieces undulate and transform indefinitely. As the code moves through the stages of the algorithms, and shapes colors criss-cross on the screen creating overlapping patterns. For "Poetic Codings" Reas will present a new monitor-based work.



Jody Zellen
http://www.jodyzellen.com/

Jody Zellen is an artist living in Los Angeles, California. She works in many media simultaneously making photographs, installations, net art, public art, as well as artists' books that explore the subject of the urban environment. She employs media-generated representations of contemporary and historic cities as raw material for aesthetic and social investigations.

Dorkbot SoCal 50
***** Sunday, December 16, 2012
***** 1:00pm-3:00pm
***** Machine Project
***** 1200 D North Alvarado Street
***** Los Angeles, CA 90026
***** Google map of Machine Project

Speakers will include...

Michael Kontopoulos

Michael Kontopoulos is an artist-inventor interested in constructing mechanical systems and tools for exploring the poetics of everyday, eccentric human behaviors.His work draws from strategies in speculative fiction in order to investigate the circumstances und er which people might build custom devices to suite their nuanced needs or respond to various socie tal failings. Buy constructing electromechanical artifacts and exploring them through video, he tel ls the story of those people, and the world they inhabit.
Born in Philadelphia, Michael has lived and worked in Philadelphia, Pittsburgh and Los Angeles and has exhibited his work at various galleries, festivals and conferences in the US, Asia and Europe.



Joy Padiyar

An overview of Holography is given with reference to its origins, techniques and methods. The various technical applications of holography and its usage are covered in widely differing areas such as security, the internet, industrial optics and imaging systems. The use of holography as an artists' medium is shown, along with specific examples of holographic artwork.
Joy has previously worked for American Bank Note Holographics in the laser lab, where she produced several well-known images such as the MasterCard hologram, and security holograms for Intel and USPS. After meeting Dinesh Padiyar - a fellow holographer and scientist, they both moved to San Diego and established their own company, Triple Take Holographics, featuring both high-tech applications and commercial uses of holograms.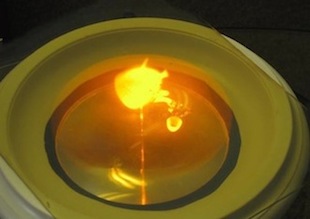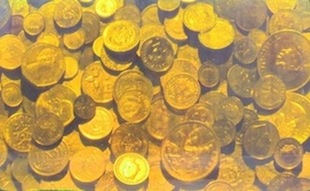 Aaron Rasmussen

Aarom was visited in his dorm by the military after building his first robot in college. Since then, he has launched the Kickstarted projects BlindSide, an audio-only survival/horror adventure game, and Mr. Ghost an iPhone electromagnetic field (EMF) detector.


---
Dorkbot SoCal 49
***** Sundary, April 22, 2012
***** 2:00pm
***** ATX Stage (near ATX Kitchen)
***** Atwater Crossing
***** 3245 Casitas Ave
***** Los Angeles, CA 90039

Jay Yan
http://www.jay-yan.com

Jay Yan is an artist from Los Angeles focusing mostly on interactive projections in relations to architectural form. He did his studies at UCLA's Design|Media Art and his work has been shown all over the world from Den Haag to Sao Paulo. He will talk about his current and past works involving interactive projections and projection art in relations to architecture.




Rob Ray
http://robray.net

Electronic artist and fabricator Rob Ray has spent the last nine years integrating and maintaining alternative energy technologies for electronic artworks in the extreme climate of the militarized salt flats of Wendover, Utah. His projects have included the circuitry and power generation of a radio tower designed and built by Deborah Stratman, a push-button system for film projection and viewing, and interpretive audio kiosks for the Center for Land Use Interpretation, in addition to his own artworks. Rob will present his experiences and research from these projects. Rob will also explore the technical, fiscal, and creative implications of alternative energy technologies on sound, video, and interactive artworks.




Chris Reilly
http://www.chris-reilly.org/

Chris Reilly is a Los Angeles-based artist, writer, hacker and teacher. He received his BFA with a focus on New Media from the School of the Art Institute of Chicago in 2006. Chris is currently employed as a mobile game developer at 3CD, an author at Lynda.com and a teaching and research assistant at UCLA's Design| Media Art department. Since 2003, Chris has shown work in several solo and group art exhibitions in the US and Europe; he works with modded video games, virtual/augmented reality, scripting/programming and kinetic sculpture. Chris wears many hats professionally: mobile game developer; web programmer; digital fabrication specialist; small business owner; open-source hardware/ software developer. He is the co-creator of the DIYLILCNC project, a free and open-source set of plans for an inexpensive, fully functional 3-axis CNC mill that can be built by an individual with basic shop skills and tool access.


---
DORKBOT SOCAL 48 - EXCURSION TO NORTON SALES - This Saturday (March 31st 2012) 11am
[ S P E C S ]

*** March 31st 2012, 11am

*** Norton Sales inc.
*** 7429 Laurel Canyon Blvd
*** North Hollywood, CA 91605
*** http://www.nortonsalesinc.com





[ D E T A I L S ]
This is an impromptu event - come on up to Norton Sales! We did this as a Dorkbot excursion in May 2007, and was a lot of fun. Here are some pics of the last event: http://www.flickr.com/photos/youraccount/sets/72157600183546485/

Here's some info on Norton Sales:

"Norton Sales has been a leading supplier of Aerospace and Industrial supplies since 1962. Our customers tend to be small shops and individuals who are looking for very specific, and often hard to find, parts for rocketry, stunt equipment, movie props and old school hydraulics."

Long story short: it's an aerospace junk / surplus dealer that is completely surreal. Norton Sales may be of interest to hackers, people interested in aerospace technologies, STS folk, nerds, etc. or just people looking for something random and interesting to do. Unlike many junkyards, there is also no age restriction (like bringing kids) to the place - so feel free to bring kids along if you like.

Come on out, bring some money, your friends and some dirty clothes.

URLs:
Norton: http://www.nortonsalesinc.com
More photos of Norton Sales: http://flickr.com/photos/tags/nortonsales/show/
Map: http://g.co/maps/4xb56

Hope to see you there at 11am on Saturday!

Garnet



---
---

                   ___ 
\    /  |_|   /\    |  
 \/\/   | |  /--\   |  

Dorkbot SoCal is a monthly meeting of artists (sound/image/movement/whatever), designers, engineers, students and other interested parties from the Los Angeles / Southern California area who are involved in the creation of electronic art (in the broadest sense of the term.)
The purpose of Dorkbot SoCal is to:
give artists/programmers/engineers an opportunity for informal peer review
establish a forum for the presentation of new art works/technology/software/hardware
help establish relationships and foster collaboration between people with various backgrounds and interests
give us all a chance to see the cool things that our neighbors are working on
Imaginary presentation topics:
a demo of the new motion tracking software you're writing
playing a video you made
an explanation of how you hacked your game boy to get it to make cool bleeping noises
trouble shooting/brainstorming your remote-controlled sandwich making robot
bringing in some dancers you're working with and having them demonstrate the interface used in your new mind-control ballet
discussing your approach to electronic sculpture
Demos of commercial software are not appropriate, unless you wrote the software or you are making it do something particularly novel or interesting. On the other hand, presenting a piece that was created using commercial software is fine.

Dorkbot SoCal meetings are free and open to the public. Space at some events may be limited, so you are encouraged to come a bit early.

You can also see photos of some past events on Flickr. Here are recent photos tagged with "dorkbotsocal", and here are some interesting ones. Some sets of specific events are also at Flickr: Dorkbot SoCal 15 (July 2006), Dorkbot SoCal 09 (May 2006), Dorkbot SoCal 08 (Dec 2005), Dorkbot SoCal 06 (Dec 2004), Dorkbot SoCal 05 (Nov 2004), Dorkbot SoCal 02 (June 2004), and Dorkbot SoCal 00 (April 2004).


              _  
\    /  |_|  / \ 
 \/\/   | |  \_/ 

Dorkbot SoCal meetings have been hosted in several different locations around the Southern California area, but are currently being held in Los Angeles (Echo Park) for the next while. They are coordinated by Garnet Hertz. Co-curation is also done by Thomas Edwards.

              _       
\    /  |_|  |_  |\ | 
 \/\/   | |  |_  | \| 

Dorkot SoCal meetings occur at least every other month. There is no "fixed schedule", but they tend to be at 1PM on Saturdays or Sundays.

The dorkbotsocal-announce mailing list is used to send out meeting announcement reminders and other pertinent information. Please subscribe to the list if you'd like to receive such information.

In addition to this, you can also subscribe to the "blabber" list, in which we discuss new ideas, where to get gear, other related local events, and all sorts of other stuff. If you want to keep in touch with what is going on, you're encouraged to subscribe to both.

There is also a Facebook group for Dorkbot SoCal.


              _   _    _ 
\    /  |_|  |_  |_)  |_ 
 \/\/   | |  |_  | \  |_ 

Dorkbot SoCal meetings have taken place in different locations around Southern California. Currently, we're going to be meeting at Machine Project gallery in Echo Park (Los Angeles) for the next while. Meeting locations and directions will be posted at this website about one week before the event, http://www.dorkbot.org/dorkbotsocal/


      _          
|_|  / \  \    / 
| |  \_/   \/\/  

To attend a Dorkbot SoCal meeting, just show up and hope there's room. To give a presentation at a meeting please email Garnet at garnethertz *-at-* gmail *-dot-* com. please see below for details on giving presentations.


 _   _    _               ___ 
|_  / \  |_)  |\/|   /\    |  
|   \_/  | \  |  |  /--\   |  

Dorkbot SoCal meetings are largely informal, but to save everyone time and energy a certain amount of planning will go into each meeting. The current structure for presentation/demo events is:
brief intros, announcements, administrative details
20 minute presentation followed by 10 minutes of q & a
20 minute presentation followed by 10 minutes of q & a
20 minute presentation followed by 10 minutes of q & a
final comments/debate/etc.
In other words, each meeting is about 2 hours long and features three presentations.
On the other hand, "open hack" events will be more free-form: just bring your stuff, work on it (or show it) and get feedback.


 _    _   __   _         _    _   _   __ 
|_)  |_  (_   / \  | |  |_)  /   |_  (_  
| \  |_  __)  \_/  |_|  | \  \_  |_  __) 

You are encouraged to provide most of the resources needed for your presentation. However, some equipment may be available for your use. Please be prepared to give your presentation with only the resources you bring with you. Available resources may - by some chance - include:
a Mac OS X laptop, PowerPoint
a data projector (but works best with Macs)
a wireless broadband network connection
a small mixer and powered speakers

 _         _   __  ___  ___   _          __
/ \  | |  |_  (_    |    |   / \  |\ |  (_ 
\_X  |_|  |_  __)   |   _|_  \_/  | \|  __)

Q: I want to present something at Dorkbot SoCal. is my project appropriate? what styles/genres/scenes does Dorkbot SoCal represent?
A: Dorkbot SoCal is (or tries to be) totally neutral in regard to style/genre/scene. An emphasis on the creative use of electricty is all that is required. See above for some examples of appropriate topics.
Q: What if I just want an audience for my new piece?
A: Short performances/demos are fine. However Dorkbot SoCal isn't really a good venue for presenting things like full performances or long-form recorded sound/video pieces. If there's enough interest we will probably organize some more formal performances/shows at some point. For now the meetings will be more informal chances to exchange ideas with other interested parties.
Q: I make cold, hard, intense, machine-robot-skull-hammer music, and am bent on the annihilation of the human species. Can I participate in Dorkbot SoCal meetings?
A: Yes, of course! however, you are not allowed to kill any human species at a Dorkbot SoCal meeting.
Q: I do soft, warm, dreamy, auto-electrolysis live performance video and founded a local PETA chapter. Can I participate in Dorkbot SoCal meetings?
A: Yes.
Q: Do I have to join something to participate in Dorkbot SoCal?
A: No. Although you might, at some point, be asked to contribute to the cash-sucking-machine.
Q: Why are Dorkbot SoCal meetings on the one day in the month i'm busy?
A: Because you are too busy.
Q: Well can you change the date? How about the first Tuesday of the month?
A: Probably not. This is Southern California -- there are jammed freeways every day of every month filled with people that think they have somewhere important to go.
Q: is Dorkbot SoCal run by a university?
A: No. Dorkbot SoCal is run by the participants in Dorkbot SoCal and is coordinated by Garnet Hertz. The meetings are free and open to the public. The locations of our meetings have been kind enough to sponsor Dorkbot SoCal and to donate the use of their facilities.
Q: Dorkbot is a stupid name.
A: "Dorkbot" was around for 4 years in NYC before Dorkbot SoCal... so I had nothing to do with this. If you have serious concerns about this, talk to Doug Repetto.


---
FOR MORE INFO ON DORKBOTSOCAL, CONTACT GARNET HERTZ AT garnethertz *-at-* gmail *-dot-* com