7:30 p.m. at WonderRoot (directions)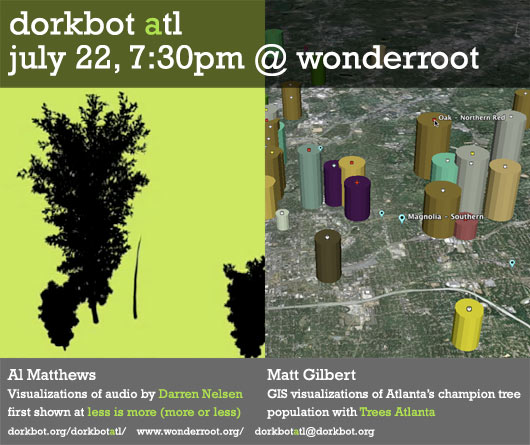 Speakers: Al Matthews and Matt Gilbert

Al Matthews
Blender visualizations for audio by Darren Nelson
Al Matthews will be presenting six visualizations in Blender of audio by Darren Nelsen. They were first shown at "less is more (more or less)," a night of Minimalist music at Eyedrum, Atlanta, GA, on 20 March 2009.
Al is a digital media artist in Atlanta, GA.
Matt Gilbert
GIS visualizations of Atlanta's champion tree population.
Matt Gilbert will present a collaboration (in progress) with Eli Dickerson and Trees Atlanta to log and measure Atlanta's champion/old growth trees, and create a website with embedded GIS visualizations of these populations.
Matt began working with local organizer and tree nerd Eli Dickerson to find, measure, and map old growth trees around the city using GPS and GIS software like Google Earth. We've recently joined forces with Trees Atlanta who, among many other great projects, compiles an annual Champion Tree List out of submissions from Atlanta residents.
Matt is a digital media artist in Atlanta, GA.