Dorkbot 24 is coming on 9.20.2010
Here's your friendly reminder: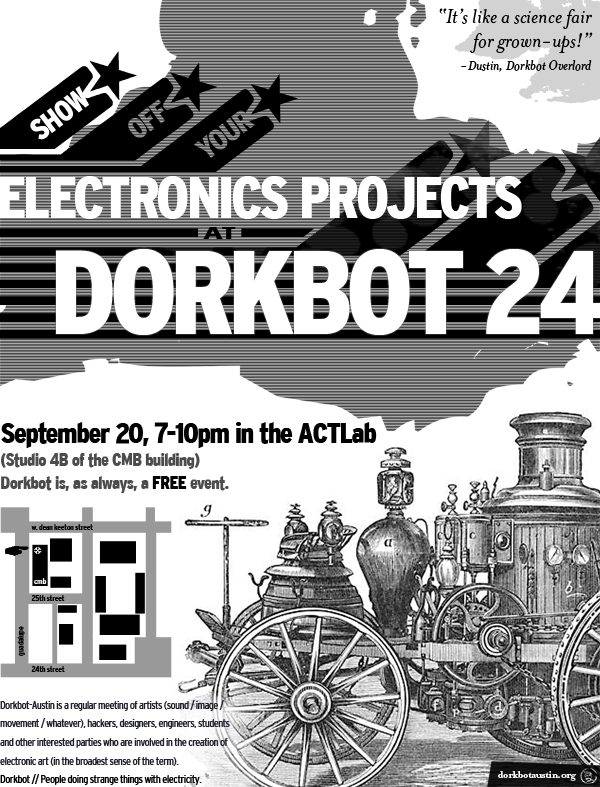 Dorkbot 24 on September 20, 2010!
7pm – 10pm in the ACTLab (Studio 4B of the CMB building) at UT. The building is located at the SE corner of Guadalupe and Dean Keaton (26th Street).
Don't forget to RSVP on the Facebook Event page. It's not required, but it helps us to figure out how many chairs we won't be able to come up with to accommodate everyone:
The lineup so far:
Carlos Santiago – Presenting material from electronicsisfun.com

Dustin Willis (Salvage Vanguard Theater) – Robot actors for an upcoming play

Brandon Wiley (formerly of Bittorrent, Inc and the ACTLab) – New web protocol that makes for unbreakable Twitter connectivity in politically volatile areas, like Iran.
Don't worry, there's still time!
We still have room for some 5-minute presentations, so if you're working on a project and want to show it off, or you're stuck on a project and could use some assistance from the group, bring it in and talk about it! If your presentation requires additional setup time, come to the ACTLab about 30 minutes early (around 6:30) to test your equipment and do some general kibitzing.
Dorkbot is, as always, a FREE event.
Comments are closed.