Dorkbot25, Dork-o-ween!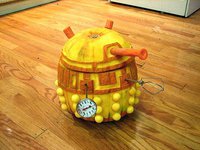 Dorkbotters! Halloween-o-rama is nearly upon us! This October, our Dorkbot meeting will be Halloween themed, costumes optional, but strongly encouraged! We are being hosted this month by the generous folks at the Austin Hackerspace on the north end of town. Be sure to check out their website for location details and more info about their excellent new space.
We are still looking for both short and long presentations to join a few excellent guests who have already signed on. As a special treat, we will be raffling off a lighted fabric belt we hope will serve as inspiration and a source of parts for an excellent craft based project.
Speakers so far:
Jonathan Leistiko & Sharon Cichelli – how to cast your face for more mask-making possibilities
Laura Smith – This 2-person costume I made with my Lilypad Arduino just so I could talk about it at Dorkbot
Lindsey Greene of The Dead Left – Bass distortion boxes with fun LEDs
More to come!
More info and speaker announcements as we have the details, so stay tuned

Dorkbot 25 (Halloween-o-rama) at the ATX Hackerspace
http://www.austinhackerspace.org
1601 Rutherford Lane
October 18th 7-10pm
Comments are closed.