dorkbot -> dorkbotBRC
Welcome to dorkbot: Black Rock City!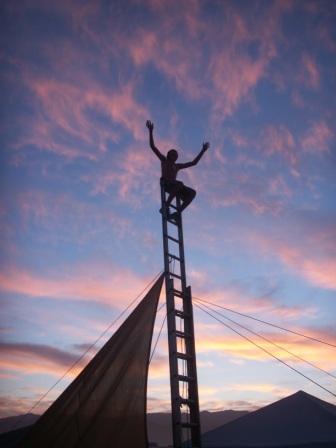 Every great city should have a dorkbot event every month. Black Rock City only exists for one week each year, so we are planning for a whole week of informal dorkbot presentations. This will bring together dorkbotters from all over the world. MathCamp at Group W will provide a new and expanded Sierpinski lecture hall, complete with sound and video conveniently located at e at pi.
Are you an artist/technologist that gets inundated with, "how does that work?", "How much propane does it consume?," " What kind of processor did you use?" Well, now you can reply, "I'll tell you all about it at dorkbotBRC on Thursday at pi time."
Want to see what is inside your favorite art project? Check out the schedule in "Who What When."
Use the links below to sign up for the mailing list or to propose a presentation.
-Sincerely,
Major dorkbotBRC
(aka Chris)
Links
dorkbotBRC Announcements - Words from our Major Dork
dorkbotBRC Blabber - Words from our Dorks
Contact Major Dork